Robin Adler, Dave Blackburn to salute Joni Mitchell's more political songs
It's not quite a harmonic convergence, but Saturday's 10th annual Joni Mitchell birthday concert at Dizzy's by Robin Adler and Dave Blackburn qualifies as a convergence in harmony. The addition of singer John Quint opens the door to three-part vocal harmonies that should suit Mitchell's luminous music especially well.
Mitchell, who turns 73 on Sunday, is recovering from an aneurysm she suffered in early 2015. Saturday's tribute to her comes just three days before the culmination of the most contentious presidential election in memory. The concert will provide timely political commentary, through the prism of her songs (ticket information appears below).
It is billed as "Joni Mitchell: Prophet of Our Times, Songs of Social Justice." The set list includes such Mitchell classics as "Woodstock" and "Big Yellow Taxi." But the focus is largely on songs she recorded between 1985 and 1994, beginning with her high-tech "Dog Eat Dog" album and running through "Turbulent Indigo."
This represents a shift for the gifted musical team of Adler and Blackburn. The married couple's previous Dizzy's shows have seen them and their band, Mutts of the Planet, perform such landmark Mitchell albums as "Blue," "For the Roses," "Court & Spark," "Hejira" and "Mingus," in their entirety.
"Joni had a lot of opinions about politics, America and the way things were being handled under President Reagan," Blackburn noted. "We decided to focus on that part of her work because we haven't done it before and because of the election."
The songs Adler, Blackburn and Quint will perform Saturday include "Passion Play (When All the Slaves are Free)," "Sex Kills" and the title track to "Dog Eat Dog."The concert's newest selection, 2007's "Shine," contains such prophetic lines as: Shine on rising oceans and evaporating seas / Shine on our Frankenstein technologies.
Mitchell announced her official retirement in 2007, following the release of her "Shine" album. She had stopped touring in 2000 due to a variety of factors, including her disillusionment with the music industry and her afflication with Morgellons disease, a painful skin condition. Her last San Diego performance was in 1983 at the Civic Theatre.
But the impact of her music continues to be felt far and wide, directly and indirectly, through the work of such disparate Mitchell admirers as Björk, Taylor Swift, former San Diego troubadour Jewel, Ellie Goulding, JAmes Blake, Sara Bareilles, Tool singer James Maynard Keenan, Diana Krall, Laura Marling and many more. Prince, who died in April, often cited Mitchell's 1975 opus, "The Hissing of Summer Lawns," as one of his all-time favorite albums.
Adler and Blackburn flew to Canada in September to perform at Joni Fest, a private, invitation-only event that celebrates Mitchell's rich artistic legacy.
The couple's annual birthday concerts at Dizzy's in her honor have perodically featured former Mitchell band members, most notably bassist Max Bennett. Saturday's tribute in a trio format will be a compartively stripped-down affair, although it may well sound like more musicians are playing than will be visible on stage.
Blackburn, the concert's only instrumentalist, will use three acoustic guitars, including a bartione model, in three different tunings. He also employs a variety of effects pedals to trigger everything from swelling orchestrations to a mellotron, the early sampling instrument prominently used in the second half of the 1960s by The Beatles, Rolling Stones, Moody Blues and other bands seeking to expand their aural horizons.
"On the more mellow songs by Joni, I have 'Strawberry Fields'-like flutes I trigger with my guitar. On 'Sex Kills,' I have these angry-sounding horns," said Blackburn, who is happy to use sleight of hand (or, rather, foot).
"When you take a horn patch and drop it down a couple of octaves, it doesn't sound anything lke a horn. I play acoustic guitar and use all these effects, (including) two pedals board, tied together. So the gap is bridged between it being an acoustic instrument and sounding kind of produced."
For the supple-voiced Adler, the challenge is to phrase Mitchell's often dense lyrics in a way that lets listeners savor each of Mitchell's poetically crafted words.
"It's very important to me that people are able to hear the lyrics. So I do my best to emphasize them, without being stiff," Adler noted.
"In some cases, I've come up with my own phrasing. Because Joni sometimes is very wordy. And some of her lines are pretty heavy, like — in 'The Magdalene Laundries' — These bloodless brides of Jesus / If they had just once glimpsed their groom / Then they'd know, and they'd drop the stones / Concealed behind their rosaries / They wilt the grass they walk upon / They leech the light out of a room / They'd like to drive us down the drain / At the Magdalene laundries.
Adler cites Mitchell's "Dog Eat Dog" album for inspiring her to become a professional singer. She has since immersed herself in Mitchell's music and read nearly everything available about the iconic troubadour to further her understanding of the songs.
"Joni would acknowledge that a lot of her songs are conversational, and that's an interesting way to approach a song," Adler said.
"I memorize all her lyrics, rather than read any of the words as I sing them. And I am even more enthusiastic about her music now than when we started doing these birthday concerts 10 years ago."
"Joni Mitchell: Prophet of Our Times, Songs of Social Justice," performed by Robin Adler, Dave Blackburn and John Quint
When: 8 p.m. Saturday
Where: Dizzy's (inside the San Diego Jet Ski Center), 4275 Mission Bay Drive, Pacific Beach
Tickets: $20 at the door
Phone: (858) 270-7467
Online: dizzysjazz.com
Twitter @georgevarga
ROBIN ADLER & MUTTS OF THE PLANET: Hejira Live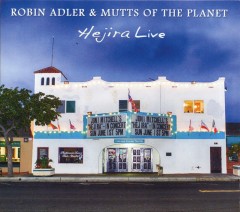 Joni Mitchell released Hejira, meaning "journey," in 1976, a road album about a cross-country trip, and considered a further step in her musical voyage (begun three albums earlier) away from her folk persona toward more complex, jazz influences. Time would show that it was not as big a departure from the drop-dead catchiness of her landmark Court and Spark as many of her later, truly jazzy explorations, and the disc has aged well. North County's Robin Adler & Mutts of the Planet (Adler, husband/guitarist/producer Dave Blackburn, and a strong supporting cast) have a well-deserved cachet locally for their past Mitchell tribute/ cover efforts, including 2010's superb Safaris to the Heart: The Songs of Joni Mitchell, and live performances of her albums. Their newest is Hejira Live.
The band includes Jamie Kime (guitars), Kevin Hennessy (bass), Danny Campbell (drums and percussion), and Jeffrey Joe (harmonica) as well as background singers, and they manage to capture the original sound nearly note-perfectly. Considering that this was recorded without overdubs with an established original sound, kudos to Blackburn for the tight, often bass-dominated groove and the yeoman performance by Hennessey (matching the original performances of Jaco Pastorius on several tracks). Oh yeah, Adler pretty much has Mitchell's phrasing and inflection down to a science as well.
"Coyote" starts with a lively tale of one of Mitchell's road hookups with a rancher, full of snappy storyline about the thrill of the sexual chase. One of the best of Mitchell's tracks from the period, Adler and company capture the essence of song's mid-'70s fun and rock-star morality. The next tune is a universe away; "Amelia" is dedicated to Mitchell's strong-female archetype Amelia Earhardt, the favorite tune of many and perfectly executed here, it somehow transports the listener to a wide open desert sky with planes soaring overhead. Jeffrey Joe Morin is aboard for the harp sections of another faithful rendering, as "Furry Sings the Blues" chronicles Mitchell's encounter in Memphis with a cantankerous old bluesman.
On a few tracks the musicians get to stretch out; the version of "Hejira" includes a tasty closing solo by Klime after Adler sings the interesting lyrics about a graveyard visit, "We all come and go unknown/ Each so deep and superficial/ Between the forceps and the stone." The group also steps out of the box on "Black Crow," the uptempo jazz piece is taken into fusion territory by Kime with sizzling breaks that recall Allan Holdsworth, pumping voltage into the set. A nice style contrast places acoustic heavily in the mix for "Blue Motel Room." The closing tune is one of the strongest, "Refuge of the Roads," summing up the exploits of Mitchell's journey and probably the closest thing to her Court and Spark in sound and texture, again flawlessly sung and played.
Hejira Live never fails to project the genius of the original artist, while demonstrating the amazing mastery of Robin Adler, Dave Blackburn and the other musicians.
Homage to Joni Mitchell's 'Mingus' Soars
Interpreting the music of Joni Mitchell is so fraught with danger as to bear all of the signs of a fool's errand – her art does not lend itself to easy emulation, to do it justice requires a Herculean effort – and to my knowledge, there is really only one entity that has ever done so successfully: Mutts of the Planet, the ad-hoc association comprised of songbird Robin Adler and her husband Dave Blackburn along with a revolving cast of top-flight instrumentalists, tailored to fit each unique occasion.
These occasions occur once or twice a year, where the group celebrates a Mitchell album in its entirety – no concessions are given to the relative impossibility of such a task, which often involve months of preparations. So, when I heard that the group would be tackling Ms. Mitchell's daunting 1979 collaboration with the legendary jazz composer/ bassist (and soon-to-be-departed) Charles Mingus, I experienced dual emotions of skepticism and giddiness.
"Mingus," the album, has the twin distinction of being the most challenging, yet least popular item in the Mitchell catalog (although a quick Wikipedia search revealed that it peaked at #17 on the Billboard charts – making the "unpopular" tag seem a little spurious). Would Adler's fans (which are legion and rabid) show up for this? They did -- practically filling the large performance space at Dizzy's in Pacific Beach.
Mitchell's record was filled with jazz fusion stars, including electric bass icon Jaco Pastorius, saxophonist Wayne Shorter, and drummer Peter Erskine, all from the group Weather Report and superstar Herbie Hancock on piano. When I heard that Adler and Blackburn's group would consist of Rob Thorsen, Tripp Sprague and Duncan Moore with Joshua White, I couldn't help but smile. Suddenly the task seemed much less daunting.
To open the night, Thorsen reimagined and reprised the original bass lines for the acoustic instrument, while maintaining the spirit throughout the lopsided groove inherent in "God Must Be A Boogie Man," while Adler's cool incantation of lyrics culled from the Mingus autobiography swirled like wafting smoke over White's ethereal harmonies and Sprague's sweet and sour soprano.
"Chair in the Sky" was all mystery, as Adler's pinpoint articulation illustrated the dry irony of a man contemplating death over Thorsen's moaning whole notes. Sprague and White, both supreme melody-makers, took the tune into a higher dimension with compact essays that combined lyric grace with rhythmic surprise.
The lone tune on "Mingus" that was solely a Mitchell construct, "The Wolf That Lives In Lindsey," flowed with an incredible narrative arc punctuated by de-tuned guitar slapping, lush harmonies and layered wolf cries and the subtle percolation of Moore's digitally-simulated congas.
"Sweet Sucker Dance," grooved on an easy swing template, showcasing Adler's deadly ease with serpentine pathways and Sprague's mastery of minimalist gestures – very much in the spirit of Wayne Shorter. Moore led off "Dry Cleaner From Des Moines," with feather-dusting brushes, laying down an irresistible bed of groove that was a composition in and of itself, and it was amazing to hear Adler motor through the minefield of angular intervals and David Mamet-on-steroids lyrics without a flub. White's solo was a brilliant funk essay that drenched Newtonian logic with grungy distortion, steering the band into a raw New Orleans aesthetic where Adler scatted and Sprague swooped and soared.
"Goodbye Pork Pie Hat," began as a duet between Adler's lithe vocals and White's orchestral piano and concluded with a monstrously inventive saxophone solo from Sprague. "Hat" is one of Mingus' most evocative tunes, and these guys tore it up. Having completed "Mingus" in its entirety, with everyone on their feet and cheering loudly – the wisdom of having prepared an encore of outside material was self-evident, and the group's romp through the Caribbean-inspired "Dreamland" was almost enough to quell the crowd's energy. Almost.
To seal the deal, Mutts of the Planet downsized to its core element: the duo of Adler and Blackburn joining forces on the haunting, world-weary "Both Sides Now," a masterpiece outlining the nexus of optimism and experience, and the barren divide between the two; illustrating the genius and heart of Joni Mitchell in utterly singular fashion.

Robert Bush is a freelance jazz writer who has been exploring the San Diego improvised music scene for more than 30 years.
Robin Adler & Mutts of the Planet: "Hejira Live"
Robin Adler & Mutts of the Planet recreate a Joni Mitchell masterpiece
Robin Adler & Mutts of the Planet just might be the finest repertory band in the contiguous United States, and I seriously doubt that Hawaii or Alaska has anyone that can touch them either.
Adler and crew (captained by her husband, Dave Blackburn, a remarkable guitarist, engineer and transcriptionist) are devoted to keeping the music of Joni Mitchell alive, and they do this by reproducing entire albums with a slavish devotion bordering on the obsessive.
Mitchell's masterpiece "Hejira" is therefore rendered faithfully on their latest recording, "Hejira Live," captured in stunning fidelity at the acoustically pristine Carlsbad Village Theatre on June 1.
First off, if I didn't know this was a live album, I wouldn't believe it, because the mix is incredible. Blackburn begins "Coyote" with those trademark Joni open-string voicings, and Adler's voice is unbelievably clear, while bassist Kevin Hennessy reprises the Jaco Pastorius bass-line in all of its harmonic-heavy glory.
Next up is a true-to-the-letter reading of Mitchell's difficult, quirky "Amelia," a tune that gave many of Mitchell's own bands fits to interpret. Guitarist Jamie Kime hovers above with volume-pedal swells and eerie counterpoint, while guest Jeffrey Joe contributes haunting harmonica work on "Furry Sings the Blues."
Blackburn, Hennessy and the sparse congas of Danny Campbell weave a contextual tapestry for Adler to deliver the world-weary melancholic treatise "Hejira" with both emotive empathy and precise articulation, and Kime sneaks in a bravura solo at the end, full of tasteful distortion and pleading vibrato.
Those singular clouds of lush harmony are religiously reproduced on the alternately mocking/despondent "Song for Sharon," which also features the soaring, angelic background vocals of Lisa Hightower, Sheryl Goodman and Mo Mullins. It's an amazing achievement.
Hennessy's electric bass is the secret engine that powers "Black Crow" with percolating acuity, and the band could not be any tighter. Adler even includes a short, startling scat chorus to take the tune out. Only a singer of the highest distinction would even try to tackle this material, and Adler shines with flawless intonation, drop-dead clarity and, perhaps most importantly, the ability to reveal the emotional story behind the music.
Since Mitchell's singing days are over, Robin Adler & Mutts of the Planet are the next best thing to the fantasy of hearing Joni do this material live. "Hejira Live" is a must-have for fans of Mitchell's enduring music.
Robert Bush is a freelance jazz writer who has been exploring the San Diego improvised music scene for more than 30 years.
For The Roses
Robin Adler & Mutts of the Planet delivered two knockout sets of Joni Mitchell music to a packed house at Dizzy's.
Mutts of the Planet is kind of a misleading name for a band that produces such consistently gorgeous music, and unless you're a Joni Mitchell "insider,' you might not realize that the moniker comes from a lyric on Mitchell's Mingus album.
At any rate, vocal songbird Robin Adler led the group through selected cuts from three early Mitchell recordings in the first set of a sublime show on April 6, at the new Dizzy's, culminating in the second set with the masterpiece "For The Roses," in its entirety.
Robin and the Mutts don't just "cover" Mitchell's music--they inhabit it. Much of the success of these performances is due to the tireless work of her husband, guitarist Dave Blackburn who transcribes, orchestrates and arranges the notoriously difficult music, which involves multiple time-signatures and more than 25 guitar tunings. To pull this off, he has assembled a top-notch group of virtuoso multi-instrumentalists, including on this performance, Barnaby Finch on piano, keyboards and percussion, Peggy Watson on vocals and guitar, Barry Cahill on vocals, saxophones and flute, and Danny Campbell on percussion-- all of them floating on and off stage as the moment required.
Adler began alone, with a chilling turn through Mitchell's assessment of the American war-ethic, "Fiddle & the Drum," before Blackburn arrived to join her with hypnotic open-string voicings on "The Dawntreader." Watson came on board for a transcendent version of "Cactus Tree," with Cahill and Campbell joining on the ebullient "Chelsea Morning" powered by Adler's pure intonation and flawless diction which allowed each and every word to be understood clearly.
"For Free," soared with the melodic woodwind contributions from Cahill and the remarkable interplay between Blackburn's guitar and Finch's lyrical piano, and everyone joined forces on the mysterious paean to a generation, "Woodstock," to close the set.
Adler and Finch began the second set with "Banquet," embodying the exponential leap in complexity that Mitchell's music had attained. Cahill's serpentine soprano saxophone wove around the singer's pitch-perfect acrobatics on "Cold Blue Steel and Sweet Fire," fueled by Campbell's congas and Finch's keyboard bass.
Lush keyboard harmonies from Finch and Blackburn keyed an intoxicating blend with Adler, Cahill and Watson's vocals on "Let The Wind Carry Me," and the whole band remained onstage for a knockout arrangement of "You Turn Me On I'm a Radio."
Closing out with "Judgment of the Moon and Stars," Adler and company basked in a completely earned, tumultuous standing ovation. Adler, Blackburn, Finch and Cahill returned with the guitarist's lush orchestral arrangement of "Both Sides Now," as an encore -- sending chills up my spine.
DOING JONI PROUD by Robert Bush
Photos by Bonnie Wright
Last night's Robin Adler & Mutts of the Planet concert celebrating the music of Joni Mitchell was huge success on every conceivable level--and like a classical music performance--much of the credit is due both to the performers and the composer.
Playing music culled from Mitchell's "jazz-period," Adler's band was tight, precise and well-oiled. Adler's husband, guitarist Dave Blackburn transcribed Mitchell's notoriously intricate music with arrangements that were mostly true to the original recordings with important expansions ( like the fabulous inclusion of pedal-steel master Rick Schmidt), and the occasional bold re-casting of said material.
Blackburn is also a recording engineer who has developed a sure ear for making things blend, and aside from the pristine clarity with which Adler channeled her inner Joni--the blend of Blackburn's guitars, Schmidt's pedal-steel and the remarkable piano of Barnaby Finch made for some mesmerizing listening over the course of two superbly paced sets.
Dan DiPietro's percolating bass drove the opening "In France They Kiss On Main Street," with an infectious forward-motion, locked in tight with Danny Campbell's drums and elevated by the background vocals of Finch and Blackburn.
I felt myself levitating two bars into "Edith & The Kingpin," Mitchell's tale of a doomed affair between a local beauty and a drug-dealer. The combination of Blackburn's raked arpeggios, Schmidt's spooky harmonics and Finch's keyboard washes established the star-crossed mood perfectly--while Adler's sure pitch and absolute articulation allowed every lyric nuance to shine.
This Schmidt guy is something else. It was positively surreal to hear him approximate a jazz piano intro to "Goodbye Pork-Pie Hat," on the pedal-steel as if it were a casual accomplishment. Although this music was not about solos--he and Finch consistently knocked them out of the park when the opportunities presented themselves.
A total recasting of "The Jungle Line," was completely driven by Campbell's wickedly intricate ride-cymbal articulations--he was channeling Jack DeJohnette on this one all the way. Special mention must be given to Adler's off-the-hook memorizing capability--Mitchell's lyrics are impossibly wordy--yet the singer delivered flawless recitations on the equivalent of 15 Shakespearian sonnets without a misstep. To do this and nail the elaborate contours of the melodies was an awesome accomplishment.
There were so many highlights: "Shades of Scarlett Conquering," sent a series of chills up my spine--especially when Schmidt's harmonically rich steel substituted for the orchestral score of the original. The creative funk of "Dreamland," benefited greatly from Finch's gospel trills and quotes from "Blue Monk," while Schmidt fused Jimmy Nolen with Hawaiian "slack-key" master Joseph Kekuku.
"Amelia," and "Harry's House," were perfectly framed by Blackburn's open-tunings, (based on Mitchell's ingenious inventions), and Adler's crystal-clear delivery of the emotionally insightful text of the former, along with the deeply sarcastic social critique of the latter.
DiPietro had the unenviable task of reproducing the late Jaco Pastorious' bass-lines on several tunes--something he really took to the limit on a rocking version of "Coyote," another paean to miss-matched lovers, remarkably absent any trace of self-pity.
"Hejira," was another spine-tingler, and the band closed it out with a spirited romp through the rhythmically intense "Black Crow," featuring a driving organ solo by Finch, another jaw-drop steel essay from Schmidt, and Blackburn's insertion of a quote from "Smoke On The Water," which somehow reminded me of Weather Report, circa, Black Market.
The two standing ovations from the sold-out crowd at 98 Bottles book-ended Adler and Blackburn's emotionally charged encore of "A Case Of You." This one will resonate for awhile.
Chosen #5 of the top 15 jazz concerts of 2011 in San Diego
Robin Adler & Mutts Of The Planet. Nov. 6, Dizzy's. Adler and her crack band played two of Joni Mitchell's most important recordings, "Blue," and "Court & Spark," in their entirety. Dave Blackburn handled both Joni's & Larry Carlton's guitar parts with ease and Barnaby Finch on piano, Barry Cahill on woodwinds turned in beautiful solos. Adler is a songbird who can really deal with Mitchell's material. Peggy Watson and Cahill handled the harmony vocals and Max Bennett's bass locked in with the drums of Danny Campbell.
I just got my DVD of the Blue/Court & Spark show at Dizzy's, by Robin Adler, Dave Blackburn, and the Mutts of The Planet today. After watching it, I can only say it was the best twenty bucks I've ever spent! God bless you guys. A beautiful performance; easily the next best thing to seeing Joni do those albums live. As I watched, I wondered if Joni has ever seen these guys perform. I'd love to know her thoughts on their work.


Last night's Joni Mitchell tribute concert by vocalist Robin Adler and her talent-rich ensemble, Mutts Of The Planet, performed, as it were, on the eve of Mitchell's birthday, was a triumph in every meaningful sense.
Adler and crew worked for several months to get their considerable chops around the ambitious idea of performing two seminal Mitchell albums, Blue and Court & Spark, in their entirety.
Dizzy's was packed for this one.
After some technical difficulties, Adler and her husband Dave Blackburn began with "Little Green", and right away, you could tell that the vocalist had done her homework. Mitchell's range is huge and her crystalline melodies often feature wide intervallic leaps--so it's no easy feat to do those songs justice.
Adler hit all the high notes dead-center, her pitch is flawless, and perhaps even more impressive, she was able to articulate the words to all of the pieces with clarity.
She carried on with pianist Barnaby Finch as a duet on "My Old Man." Finch has got a great approach to accompanying Adler, he made the grand piano sound luxuriant in support and his brief asides were informed by the same melodic sense of ornamentation that I've always associated with long-time Pat Menthey associate, Lyle Mays.
Adler tackled "Blue" like a pro, emoting the lyrics with the wisdom of experience and nailing the melody with laser precision.
Over the tick-tock chatter of Danny Cambell's rim-shots, the full band emerged --Blackburn's crisp acoustic guitar guided by the rock solid basslines of Max Bennett, and dual keyboard comping of Finch and Dave Curtis to bring "California", one of Mitchell's most joyous songs to life. That melody requires an absolute songbird, and Adler qualifies.
After a brief intermission, the band gathered to perform Court & Spark, an even more difficult assignment.
They jumped right into it, though, with a sublime run through the album's mega-hit, "Help Me." Every thing fell into place for this one. Mitchell originally doubled and tripled her own voice for background vocals, at Dizzy's, Adler relied on the sure-pitched artistry of Peggy Watson and Barry Cahill, and they made the tune sound as deep and rich as the studio version .
Special kudos go out to Cahill, who not only sang like an angel, he assumed the instrumental duties of LA Express leader Tom Scott, on tenor, soprano saxophones and flute--the cat earned some sort of multitasking trophy for that one.
In truth, though, it's hard to single any one person out for praise, because each member of Mutts Of The Planet played their asses off.
Court & Spark was one of those ultra rare moments where art and commerce merged. It was Mitchell's most financially rewarding effort, yet it also works as a purely creative statement. Each vocal and instrumental layer is divinely crafted, so for a group of musicians to interpret those arrangements live, is a real achievement.
Blackburn has absorbed the intent of Mitchell's acoustic guitar work and extrapolated it into deeper harmonic implications, and, at the opposite end of the spectrum, he was able to recreate Larry Carlton's sumptuous lead work from the album. He played all night with a self-assured restraint that served the music perfectly.
After a rousing, bluesy rendition of the tune "Twisted", Mutts Of The Planet earned, and received their first standing ovation, which went on until they returned to the stage, (Blackburn, Adler and Finch) for an absolutely stunning arrangement Blackburn wrote of Mitchell's most famous piece, "Both Sides Now."
Over rolling guitar arpeggios and haunting synthesizer string pads, Adler reflected the joy, sorrow, and weary knowledge of the theme with nuance and insight. A perfect ending to a damn-near perfect evening.
Hi Dave,
Received your Safaris to the Heart:The Songs of Joni Mitchell CD today. This Cd is superb!!!!!!!!!! Everything on it is in great taste! The players, the vocals, the charts ! Great harmonic concepts & structures!! Each song is done beautifully. You all should be very proud of this. She should hear this. Kudos to all!!!!!!!!! m
Robin Adler and Mutts of the Planet
Safaris to the Heart: The Songs of Joni Mitchell
---
Fallbrook's Robin Adler, husband Dave Blackburn, and a group of top-shelf local jazz players have gathered together for a labor of love called Safaris to the Heart: The Songs of Joni Mitchell. Billed as Robin Adler and Mutts of the Planet, the band is up to the task of both covering and interpreting a batch of ten songs by the Canadian pop/folk/jazz genius, offering both a glimpse of Mitchell's sound and plenty of their own musical touches. Pristine studio work by Blackburn uses his own guitar accents, ear-catching piano by Barnaby Finch, drummer Jeff Olson and bassist Dave Curtis' rhythm section to surround and amp up the vocals. Adler, vocally backed by Britt Doehring, has a full, strong voice that works on both live and studio tracks, and the disc is a mixture of the two. In a recent interview with the San Diego Troubadour (February 2010), she claimd she doesn't think that she sounds like Mitchell; while she doesn't copy her or anyone else she does manage to make a few of the tracks here sound a lot like the Mitchell originals, which is a very good thing.

In the disc opener is "Rainy Night House" from Miles of Aisles, the band sounds so much like the outfits on Mitchell's mid-'70s albums that it is uncanny: shimmering keyboards, bass guitar in vacant spaces in the sound that make the lyrics stand out, nice percussion. The most heavily represented album is 1991's superb Night Ride Home, and "Cherokee Louise," a highlight from that disc, is on here, too. Adler nails the vocal, conveying the emotional mystique of a tale about childhood (including molestation) of the original with an approach that still resounds of Mitchell.

"Woodstock" brings together the haunting tones of what was probably the best song about the festival when Adler's soaring vocal, and a live, keyboard-dominated bridge gives way to a few rocking bars of "Pinball Wizard." If the listener doesn't flash on Pete Townshend doing jumping windmills in 1969, it isn't for lack of the band's effort. Mitchell lovers should like "Amelia," since this cover sure sounds like the tune on Hejira, while "The Jungle Line" adds trumpet touches to the rumbling jazz drum tune and makes very good use of some heavy guitar chords by Blackburn as Adler chants about the inner city, or is it Africa?

The ten songs here may leave some Mitchell fans thirsting for other personal favorites not included here, but this is a generous disc lasting over an hour. Mitchell's five folk-heavy early discs are lightly represented here, and none of her obscure '80s output, but most of the selections aren't strangers to most music lovers and fans of the singer.

"Help Me" is again, like "Amelia" played fairly close to the irresistible Court and Spark original; no argument here, since any re-arrangement would likely fall short. Sandwiched around this tune are two other tracks from Night Ride Home, the title track from that disc and "Passion Play" (also known as "When All the Slaves Are Free"). These shine, and things wrap with a snappy beat on "Dreamland," a long, live jazz exercise with sax, keys, scat singing, and Brazilian attitude.

Jazz fans, especially fans of Joni Mitchell and her music, will find Safaris to the Heart an irresistible celebration of the works of a great artist. Robin and Dave's project has all of the signs of a labor of love, and sounds great to match.
Dave & Robin Astound... Again!
---
I got the joy once again of hearing Dave & Robin perform their Songs of Joni
Mitchell show. My God, they sounded even better than before and I can't
believe that's possible. Wonderful arrangements with lots of musical
surprises and top-notch talent. Thank you guys so much for putting your
hearts and souls into this music. I thought last night this just has to
continue to be put out there for people to keep hearing and absorbing. Of
course after lo these many, many years of taking it all in, it runs through
me like "holy wine." But people need to keep getting exposed to that level
of musicianship and writing from Joni. It just doesn't exist anywhere else.
And to hear/see it performed at that high level is just such a treat.
Thank you, thank you, thank you, all! See you at the next performance.
(And everyone has to bring two new people to keep expanding the listener
base!)
Lindsay
Safaris to the Heart
Robin Adler & Mutts of the Planet
by Mark Scott
---
I used to think that Joni Mitchell's music was too intensely personal , too uniquely crafted and performed by Joni herself for anyone else to be able to pull off covering her songs. She is undeniably one of the great songwriters of our time. She has produced a string of original, innovative, progressive albums over the past 40 years and built a catalogue of songs that is like a living organism. Each successive album has shown her growth as an artist and also given glimpses and portraits of herself and the world she has inhabited. There have been a handful of Joni Mitchell covers I have heard that have the right mix of respect for Joni's songs with just enough of the particular artist's own personal stamp to be successful. But those have been few and far between.
And now along comes Robin Adler and Mutts of the Planet's cd 'Safaris to the Heart' with an entire hour's worth of Joni Mitchell songs, all performed with that perfect blend of originality and respect for the high quality of the material. In my opinion, this record takes its place among the best of the various tributes to Joni Mitchell.
The title of this collection of songs can be read in more than one way. First of all, it is a lyric from Joni's song, 'The Jungle Line', one of the highlights of 'Safaris to the Heart', that gives a clue to the flavor of the music on the cd. But the title can also be interpreted as a safari into the heart of the deep, rich and lush garden of Joni Mitchell's large catalogue of songs. You can also say that the record is a safari into the human 'heart' since so much of Joni's music beautifully describes journeys through that endlessly varied terrain.
The name of the collection of musicians that back Robin Adler's inspired vocals also comes from a Joni Mitchell lyric. Mutts of the Planet is a phrase from 'A Chair in the Sky', a song that has a melody written by jazz great Charles Mingus with lyrics penned, at Mingus' personal request, by Joni Mitchell. So, right away, the listener has a clue as to the jazz flavor of 'Safaris to the Heart' and the admiration these musicians have for Joni's music. Robin Adler's voice is perfectly suited to the material that comprises 'Safaris to the Heart' and she uses that voice with great skill and expression. The voice is partnered with the work of Robin's multi-talented husband, Dave Blackburn who plays a variety of instruments and who also recorded, mixed, mastered and produced the cd. The recording is perfectly mixed throughout and several live cuts sound just as good as the songs that were recorded in the studio. Dave has also obviously mastered a considerable number of Mitchell's complex open tunings for guitar that play a large part in the unique quality of her music. Although 'Safaris to the Heart' is a work that stands on its own as the group's unique take on Joni Mitchell's music, there are places where Dave so faithfully reproduces pieces of Joni's guitar playing that you would swear she was there, playing them herself. I believe that Dave's comment in a recent radio interview was something like "Why mess with perfection?"
Robin and Dave get solid and stellar support from the rest of the 'Mutts' as the first cut on 'Safaris to the Heart' clearly demonstrates. Their arrangement for the song 'Rainy Night House' is based on the live version from Joni's concert album 'Miles of Aisles'. She was backed by Tom Scott and the L.A. Express on that tour. Listening to this song on 'Safaris to the Heart' for the first time, I felt like Mutts of the Planet had added all of the elements that I had somehow felt were missing from the 'Miles of Aisles' performance. The arrangement sounds complete in a way that the L.A. Express version never has for me. Special guest Mitch Manker's flugelhorn is a welcome addition and Robin's singing has a light, but soulful touch that respects the material but also makes it her own. Barnaby Finch contributes a funky keyboard solo after the second verse and Dave Blackburn's guitar adds all the right touches throughout the song. And I love it that the 'upstairs choir' really sounds like a church choir! This first musical 'safari' gets things underway and makes the listener eager to hear what comes next. What follows is a set of skillfully executed songs that give the listener a nice sampling of Joni Mitchell's adventurous and varied body of work. Robin Adler obviously has a deep connection to this material. Her expressive, flexible vocals show a tremendous respect for Joni's songs while adding her own unique and special touch. Somehow she performs the amazing feat of keeping the spirit of the songs intact while making them her own. And, in some instances, she achieves a level of soulful intensity that transcends the originals. While the quality of the music is consistently high throughout 'Safaris to the Heart', there are a few stand-outs.

The song 'Woodstock' has been covered many times by a variety of artists. Joni Mitchell herself has recorded at least 4 versions, the original studio recording from 'Ladies of the Canyon', two live performances and an orchestrated version on 2002's 'Travelogue'. That being said, Robin Adler and the Mutts have managed to put a fresh spin on this classic. It begins with some magical interplay between Dave Blackburn's electric guitar and Dave Curtis's bass, with a few keyboard flourishes thrown into the mix. The tone is mystical as Robin's voice comes in solo at first, the instruments coming in underneath her. The vocal in particular is reminiscent of Joni's original recording which made the song sound almost like a religious anthem, but the tone loosens up as Jeff Olson's drums come in on the second verse and Robin's vocal starts to cut loose. There follows some lovely guitar work from Mr. Blackburn and a keyboard interlude courtesy of Mr. Finch that gradually turns up the heat. Then the electric bass picks up the tempo and the whole thing starts to cook. Suddenly we are hearing a rapidly pulsing electric bass line that sounds familiar and finally jolts us into recognition as Dave Blackburn sings the first line of The Who's 'Pinball Wizard', a song of course performed at Woodstock. A total surprise and not something that would ever have occurred to me to do with this song, but it really works. One quick verse of 'Pinball Wizard' that kicks things into high gear and it's back to 'Woodstock' as Robin pulls out the stops and soars through a soulful send up of the final verse.
The song 'Amelia' has always struck a deep chord with me. The first time I listened to the Mutts version, I don't think I was looking at the track list. So I was caught off guard by the opening guitar line. Corny as it may sound, my eyes welled up. Somehow all the emotional elements of that song are summed up in that intro for me and Dave Blackburn nails it. This is one place where it is obvious that the choice was made not to 'mess with perfection'. Dave certainly does Joni proud throughout this song. Don Reed's electric lap steel guitar accentuated with pedal steel licks from Dave Curtis lends a haunting feel of how wide open spaces can be achingly beautiful and lonely at the same time. And Robin turns in a lovely, reflective vocal, beautifully phrased & expressed.
The rapid ripple of Mitch Manker's trumpet begins the safari to the heart of all that jazz that is 'The Jungle Line'. Robin is flying solo as she begins the vocal with Mitch interjecting his nimble riffs that run up, down and every which way. The second verse brings in a loop of jungle drums created by Dave Blackburn and a threatening, sinister rumbling, made by the combination of electric guitar, synth bass and sousaphone. Robin goes charging and chanting through this potent brew of bubbling, boiling trumpet and menacing, electronically charged guitar/bass/drum combination. She cuts into the lyrics about the urban jungle and the drugs that funnel into it from all around the globe with an edge to her voice that is more reminiscent of Grace Slick than Joni Mitchell. We get to hear a completely different facet of this versatile singer's voice and emotional range. On the whole, this track achieves an edgier sound than Joni's, the Warrior Drums of Burundi notwithstanding. It fits the lyrics perfectly which have always given me the feeling of something deadly lurking in dark shadows, waiting to strike. This is a great interpretation of a great song.
There is a lovely instrumental version of 'Both Sides Now' on this disk. It features another 'special guest', Paul Carman. Carman plays variations of the melody on soprano sax while Barnaby Finch's piano sometimes ripples its notes like a woodland stream over rocks and sometimes languishes in moody, impressionistic pools. I particularly like the piano figure that comes at the end of each verse where the water seems to gently surge and recede.'Safaris to the Heart' does not have a weak track on it. Robin weaves her voice through the challenging melody of 'Help Me', making interesting alterations along the way. Barry Cahill really enhances this one with the sound of his flute. The lap steel guitar again contributes a mood-enhancing addition to the beautiful 'Passion Play'. Robin's gentle touch caresses the vocal on this one. It is perfect for the haunting, thought-provoking lyrics. This is one of my favorite Joni Mitchell songs and this version is a worthy interpretation.
'Dreamland' wraps up the cd and the song provides a chance for all of the players to shine. Jeff Olson's drums set the toe-tapping rhythm for this one that seems just a tad bit faster than Joni's version. There is also more of a feel of a late night jazz jam session here than the atmosphere of sunny beaches and warm tropical nights that Joni's original evokes. Robin's vocal carries the melody along with a rhythmic pulse, drawing out and bending notes in all the right places. Paul Carman blasts out a tenor sax solo that smokes during the extended jam that comes before the last verse of the song. He is followed by equally incendiary keyboard and bass solos. Finally Robin joins in the celebration with her own special percussive brand of scatting. The last verse of the song ends in a yelp that is an expression of the fun and pure joy that the musicians had to have felt as they created this live get-up-on-your-feet-and-move jam.
Robin Adler is anything but a Joni Mitchell clone. Her voice is not like the stratospheric soprano of Joni's early work. It does not have the smoky quality of Joni's later recordings either. It is a unique, nuanced, expressive instrument that is a pleasure to listen to. Somehow, without compromising her own musical personality, she manages to tap into the heart, soul, guts and nerves of Joni Mitchell's melodies and lyrics. Robin navigates through the early songs ('Woodstock', 'Rainy Night House') and continues up into Joni's work from the 90s ('Cherokee Louise', 'Night Ride Home'). She sounds comfortable and capable at both ends of this spectrum and with all the stops she hits in between. She is solidly backed on 'Safari's to the Heart' by an ensemble of accomplished musicians who also seem to know the secrets of Mitchell's mojo. They use Joni's music as a springboard to weave their own magic spells. The result is both a tribute to Joni Mitchell and a highly entertaining, provocative, challenging and original cd. If you love Joni Mitchell or if you just love good music, buy 'Safaris to the Heart' and get a good healthy dose of all that jazz.


'Safaris To The Heart The Songs of Joni Mitchell'
by Anita G.
---
The first time I heard 
Big Yellow Taxi I was about 20 rows back at 
the Royal Festival Hall. It was January 1970.
The first time I heard The Magdalene Laundries I was at the Edmonton Folk Festival in very front row in August 1993.
Yup, I can say I WAS THERE before the record!

 So there's a lot of envy going on in me because I WASN'T THERE. Yes, folks I wasn't there when Robin Adler and the Mutts of the Planet recorded most of the tracks on Safaris to the Heart at Idyllwild. And some of you lucky ones were there. My heart is being eaten out.
It's a bright Saturday morning here in the UK and I am having a party. I invited Tom Scott to bring the LA Express to meet up with Weather Report. When I asked Larry Carlton if he can pop in and play some of his most ethereal swirly licks, he agreed. I asked Anita O Day, Norah Jones, Diana Krall and Joni at her Jazzy Mingus best if they could pop in and sing a few tracks. There, in a nut shell, is the feel. I am now ready for my Mutts of the Planet Party.
Safaris to the Heart: The Songs of Joni Mitchell booms out of my sound system for the third time today. The party is underway.

The album kicks off with my current favourite track, a very cool arrangement of Rainy Night House. Maybe because it's so far removed from the original or maybe because it hints at what Tom Scott might have done the track if he'd been around with Joni some years before, this arrangement has a really interesting rhythm change, a brilliant flugelhorn break and a really expressive vocal. Even the sopranos in the upstairs choir (Britt Doehring and Robin) are really neat.

Dave "Larry Carlton" Blackburn pops in layers of swirling guitars on top of a rhythmic acoustic for a restrained and quite beautiful Cherokee Louise. Robin manages to make every word count, and again the backing vocals, whilst having some of Joni's originals, have a little more added in. It works beautifully, with some really restrained and super drums and percussion courtesy of Jeff Olson. This is followed by the album's epic track, a monumental, huge arrangement of Woodstock.
It starts with Robin's voice soaring above a minimal orchestration of harmonics, a "Riders on the Storm" keyboard and more swirling guitars which work well. The drums kick in and the sound is a wee bit laboured before kicking into a monstrous rock ending in which a Pinball Wizard and Robin's rocky voice are unleashed. Quite unlike any arrangement I've heard of this song before, its a massive undertaking which, for me, works better in some parts than others. However, I can picture myself shaking my heavy metal head if I had been there at the live performance, which comes just before the Mutts (it transpires) were going to take a break. You then realise that this actually is a live take, and Dave's production values put this album in a genuinely top class. The achievement becomes even more astounding.

Amelia follows, sounding uncluttered, clean, simple and airy, before the final track of Side 1, a version of The Jungle Line. Robin kicks this off with a perfect duet with Mitch Manker's trumpet before breaking into the Burundi style rhythm of the original. The heavy, distorted guitar, delayed vocal, thumb piano and crazy trumpet evoke brilliantly a drug crazed jazz club. I loved it.
Barnaby Finch's instrumental arrangement of Both Sides Now comes as light relief after the frenetic darkness of the Jungle Line. The instrumentation of BSN sounds very much like it could be followed by Weather Report playing Birdland and it's really super. Not nearly so dense as Herbie Hancocks arrangement on River the Joni Letters, it does great justice to Joni's original melody whilst providing a vehicle for Paul Carman's highly polished jazz sax playing.

I love Don Reed's electric steel sound on the laid back, gentle version of Night Ride Home which follows. Robins vocal has a bouncy quality to it which gives the song a lighter feel than Jonis original, and in Help Me, which is perhaps the song on the album which sounds closest to the original arrangement, Robin again finds the odd line or phrase which makes it her own. Our friend from Holycombe Joni Fest, Barry Cahill, augments the sound with saxes and flutes and it's so proficient, Tom Scott would be proud.


Passion Play was a song I never really liked much until I saw Thierry sing it at the French Joni Fest some years ago. He and I sat singing it looking over the French hills one lunch time and, from there, I was hooked. What's impressive about the Mutts version of Passion Play is Robin's connection with the complex lyric of this song. Not only does she sing it beautifully, but she brings the words to life so that they make sense. So it's strangely disconcerting after such a fine performance to hear, as the applause rings in from the audience, Robin say, "That's a cool tune." An understatement, methinks.

The final track Dreamland pays an initial tribute to the original before popping off into a jazz funk groove that I'm sure Joni herself would be proud to shake her thang to. Its a real show piece for the astonishingly good musicians Dave Blackburn has assembled for this tribute to Joni. They all take a turn to show us (if we didn't know by then) that they know a sharp from a flat, and play over the tight rhythm pinned down by drummer Jeff Olson and bassist Dave Curtis.The album finishes on a whoop of joy and applause from those who were blessed to be at Idyllwild JoniFest last September.
The sleeve notes say that the album is dedicated to Joni and thanks her for being an inspiration and for enriching lives with her poetry and music. It describes JMDL as a vibrant online community and thanks all who have come out to the concerts.

Dave, Robin and the Mutts, it's us who should be thanking you. You have produced an album that is deeply respectful to Joni's music, bringing both new arrangements and interpretations. The standard of musicianship on the album demonstrates appreciation of the complexities of Joni's music, whilst having genuine feel.

Finally, you have a singer in Robin Adler that gets Joni from the bottom to the top whilst being her own woman and her own singer. Herbie Hancock should have heard Robin sing before making the final choice for his Grammy award winning tribute to Joni. Herbie's loss is the Mutts gain. I think Joni would be so impressed by this album. She could not fail to be moved by Dave Blackburn's tribute to her music. I reckon Joni would love Safaris to the Heart. You will too.
Robin Adler and Dave Blackburn Breathe Spirit and Soul into the Music of Joni Mitchell
by Annie Dru
---
Fallbrook? They live in Fallbrook? Is that even in this county? Turns out it is. Way, way up interstate 15, past Escondido but before Temecula, you exit at a ramp leading to a four-way stop in the otherwise pristine rolling hills and drive down a winding country road several miles to a little white wooden bridge. If you're lucky enough to have someone waiting to wave you down and guide you in like I was, you'll drive a bit farther, through eucalyptus trees, across crunchy gravel, and end up parked in front of Dave Blackburn and wife Robin Adler's recording studio "whew, made it" and then "ah, this is beautiful."
The property is gorgeous, with a modern-style dwelling made of stucco sitting up on a rise where Robin's mother lives, and, down a slope, a darling and very old cottage divided into a duplex accommodating Robin and Dave on one side, and Robin's uncle on the other. This is where Robin grew up, and after years away, this is where she and Dave decided to make their home, build their recording studio, and create their music.
They greeted me warmly - Dave, in his friendly, but slightly reserved British fashion, and Robin like a long lost cousin from a mid-western memory. After the photographer, who happens to be a friend, suggested that we all pose together for some shots for her personal album, we chatted briefly to "get acquainted" then down to business we got. I let them know up front that they were being interviewed for what my editor calls "the sweetheart issue" and that I'd be wanting some straight talk about the intimacy of making music with your lover; the conflicts (raised voices, slamming doors, tears, broken guitar strings, etc.) as well as the exalted moments, when the passion that burns for one's partner intersects with one's passion for making music. I wanted the juicy stuff. They looked slightly suspicious, but nodded anyway, and we began.
Robin started "It's challenging; we definitely get into some... tiffs, if you will. But on this Joni Mitchell project, we've been doing great; it's very collaborative; he'll listen to me, I listen to him." Dave responds "We've had this band for four years now. Robin said to me 'Wouldn't it be fun to do a gig where we did just Joni Mitchell music?' because we're both life-long fans. So I thought, yeah, that would be great. The next thing I know, she's booked a gig about two months down the line, and we haven't even begun yet, haven't learned any music! Well, that lit a fire and we had to get busy. Now, four years have gone by and we've done a lot of material; done our own arrangements, traveled; we went to England last year, and we plan to go this year to England and Scandinavia to play." I asked if there are big Joni Mitchell fans in Europe, and Dave said, "Well certainly in England. We have contacts, so we'd like to do some house concerts there."
Robin continues "We're really a big part of the online Joni Mitchell fan community. Her website is maintained by fans; the JMDL, or Joni Mitchell discussion list. The way we got hooked in, is that when we did our first Joni concert in Fallbrook, somebody from the JMDL saw the notice in the Fallbrook paper [they're constantly searching the internet to see if anyone's doing anything] and that's how they discovered us and started listing our concerts on the front page. It's like belonging to AA or something; if you're in England, or wherever, there's likely to be a group of people interested in attending a Joni Mitchell tribute concert."
I asked how that first gig went, which they only had two months to prepare for. Dave said "Well, looking back it was pretty rough, but at the time it went over, and was really popular, it was packed." Robin adds, "It's the most popular musical thing we've ever done."
I asked how they decided which Joni songs to do that first show. Dave said, "We just kind of went with what we liked, and what we could pull together in a short time." Robin adds, "We decided to do a chronology of her music just to show the breadth of her artistry. It was kind of educational; in fact all of our concerts have a little bit of that because we talk about her. It's interesting because we do the early stuff, the stuff when she's going into the jazz period, and we do the obscure, unpopular jazz repertoire. Even though Joni Mitchell fans came to the concert, they really learned something, even about her music. There are people who followed her to a certain point and then didn't like the direction [she went] but at every concert people come up and say 'I heard things I've never heard.' It reignited their interest."
Dave pipes in, "A lot of people haven't listened to that stuff in 30 years, so it's like hearing it done live in front of them again. We've had people say that they consider themselves big Joni fans, but that they hadn't heard some of those songs, and that they were going to go out and buy the record. We want a kick back!"
Knowing how complicated "some of those songs" are, and how many bad-ass players recorded on the recordings, I asked what the line-up was for that first show. Dave responded, "Well, we had a four-piece band originally, and it was a tiny room; it would only hold 90 people, and we packed in 90 people elbow to elbow. But quite quickly the line-up started to expand, and we got players that were seasoned jazz musicians that could read really well, and solo really well. It's become more of a jazz outfit, because we can stretch on the material now; songs that didn't have any improvised sections, now we bring those in and use them as platforms for taking it somewhere." [To Robin] "We could play her Woodstock maybe..." Robin volunteered a caveat, "It's a long version."
Dave sets it up: "So this arrangement came about as an idea of Robin's. It's almost like a screenplay; you're walking along the road towards the festival, and you meet a fellow traveler along the way. You're in this kind of trippy headspace and as you get closer to the festival itself, it starts to get louder and bigger, and pretty soon you're enveloped by the sound."
At this point Robin interjects, "Now, this is a live version recorded at a Joni Mitchell festival in Idyllwild." As the tape begins to roll, in one of those freakish coincidences, a very loud helicopter from outside the studio hovers in the general vicinity, precisely at the moment a beautiful, unearthly electric guitar tone begins to sound; just a few eerily sustained notes. I ask, "Who's that on guitar?" Dave responds in a humble and self-effacing tone, "I'm the guitarist." The guitar is slowly joined by the bass and then the keyboards; everything very transparent and very open, and jazzy... and then... and then... the voice. My ears do a double take, because although their voices are clearly different, Robin's phrasing and slow, wide, and loose vibrato, her clear musical intention and command of her instrument mirror the brilliance of Joni's.
I catch my breath so I can listen without even the distraction of my own breathing, because, quite above and beyond the similarity, the quality of Robin's voice is so present, so skillful, so completely without artifice that it captivates me in an instant. I can honestly say that I wasn't in the least prepared for the "world class-ness" of Robin's voice before I heard it. "And we've got to get ourselves, back into the ga-ar-ar-ar-ar-den." She pauses, and the guitar, bass and keyboards are joined by the drums, and some very tasty '70s style jazz solos ensue.
And then... what's this... "Pinball Wizard?" Yes! Dave's voice joins the fray, "Ever since I was a young boy..." The crowd cheers wildly. Robin and her back-up singer join him on "...sure plays a mean pinball!" Then she's alone again, and with a new Grace Slick-like growl, she sings, "By the time we got to Woodstock, we were a half a million strong." Switching again to Joni's angelic tone to sing the last, ethereal "...back into the garden." There's a pause, then the final chord from the band that seems to suspend itself above the crowd for an eternity before the drums crash, and, after a long moment of silence, you hear the very audible appreciation of the audience. Wow, I'm stunned.
What next? They run off the stage past security and into a waiting helicopter to be airlifted out of the mob? Not quite... It's Robin's voice in the microphone again, "We're going to take a break... there's dessert... and we'll be back." "Homey touch," says Dave drolly. "Dessert for half a million of you... we'll buy." He pauses and then says, "So anyway, that's what kind of a live band it is; pretty jam-y. It's jazz people when we want to do that, or rock when we want to do that."
I then attempt to get some background information on each of them singly and as a musical unit, as I didn't come to this interview knowing much beyond their reputation for being top flight musicians in this community. "Are you both songwriters?" Dave says, "Myself more than Robin. I've actually written a book about songwriting; I used to teach at Mira Costa College. I was teaching a songwriting course, and I couldn't find a text book that I liked, so I wrote it. I thought 'well, what do I know about this' so I sat down and wrote it. I've been writing songs since I was about 14 or 15."
I ask Robin the same question "Well, I didn't even get into music until I was in my thirties. I was married before to a saxophone player, and that was my introduction to jazz. I didn't sing in school or anything, but one time I was singing along to a Joni Mitchell record, and a girlfriend heard me and said, 'You should sing.' I was doing massage therapy at the time as a career, but she really encouraged me, so I went to a community college and took some classes, and then studied with a private singer; this was up in L.A. When my first marriage ended and I moved back down here and started attending Mira Costa College..." Now I could see where this was going. "I just took music classes; theory, and while I was there, someone at the college asked me to sing on their song in a songwriting competition. That's how I met Dave; he entered one of his songs, and we met in the green room. I had a little reggae hat on, because I was singing a reggae song... I guess he thought that was cute. He had a girlfriend at the time, but years later..." Dave corrects her, "A year later." "Okay, a year later; they had split up, and that's when Dave and I got together, but to answer your question, I'm really not much of a songwriter. I've written some lyrics, but my emphasis has been voice."
I asked if she ever sang any of Dave's original material. He responds, "We've done some, but I'm more of an opportunistic songwriter; when there's a project that needs a song, I'll write it, but I don't just sort of sit down and write songs anymore; I used to when I was younger."
"When Dave and I first got together, I was working with [jazz guitarist] Peter Sprague; that wasn't Dave's genre so much, so we really didn't work together. On occasion we would; he's a drummer as well as a guitar player, but I was really involved with that project. It was a huge undertaking for me, because I was so green, and I was in this group with the top jazz musicians in San Diego. Peter had heard me singing, and I guess he liked it, even though I was green, green! He sort of took me under his wing. Jazz isn't something you just pick up like a guitar and start; it's pretty complex instrumentally and vocally."
I asked how she and Dave came to work together as a team. Dave says, "We would do jazz gigs, usually with me playing drums; a trio or something like that." Robin adds, "Mostly, we did casuals, so we did variety music; weddings and things... covers."
Dave expounds, "My ambition in life has always been to produce, make records, and so, I've cultivated a roster of people like Peggy Watson and Joe Rathburn. That's kind of my love, being in the studio, recording." Robin interjects, "Performing is not his thing; that's one reason drums were comfortable for him, although now that he's playing guitar in this band..." Dave continues, "Well, I always played guitar. I used to have a solo gig when I was 16 back in England, at a local pub. I'd walk across a plowed field with my guitar and play unamplified, no microphone, and sing in this pub. I wasn't old enough to even be in there, and the owner paid me in beer, which still works. I'd play my own stuff, and Stevie Wonder tunes." He directs the next comment toward Robin, "I think I tried to do a Joni Mitchell song once..."
He continues, "As time went on, I made drums my performing instrument, and guitar became my arranging, writing instrument. When we got going on this project... well, the guitar responsibility when you do Joni Mitchell is pretty huge. You can't just call somebody up and say, 'Do you mind playing guitar in our Joni Mitchell band?' because you have to have about five or six guitars in different tunings, and it's a huge undertaking to learn these songs in the correct tunings. It's much easier to hire a drummer than to hire a guitar player; besides, we sometimes do this show as a duo. It was obvious that I was going to have to be playing guitar."
I ask how many guitars Dave takes on stage with him. "Well I have four, but I often borrow one or two more, just so there isn't a bunch of down time. It's really hard on the guitars to be constantly changing tuning, and I hate down time in a show; it's one thing to chat with the audience, but if you have to tune, 'duh duh duh duh duh...' If you ever heard any bootlegs of early Joni from '67, '68... it's a five minute song, and then three or four minutes of tuning. It's torture to listen to."
I mention the only guitar player I've ever heard that makes the tuning process part of the show in an entertaining way. "You mean David Wilcox?" Dave asks. I said, 'No, but you're right, he does, and I'm a big fan.' This led to a several-minute chat about Wilcox, who happens to be a favorite, followed by a reference to another of their favorites I was unfamiliar with. "We're big Jonatha Brooke fans too; she's an equal part of that singer/songwriter, advanced guitarist, great vocal chops..."
"Are those the kinds of songs that you write Dave - folkie, storytelling songs?" I ask. "Well, yeah, when the situation calls for it. I've written a lot of instrumental jazz stuff, I've written what they call 'library music,' which is kind of like stock photography; you write cues that get used in television, and you don't necessarily know where they will be used, but you write music within a certain genre that gets key tags, so that a movie or TV producer who's looking for something suspenseful can find your stuff. I've done orchestral music for that; I've written music for plays. It's kind of what the situation calls for, but because I play guitar, I'll often get into that sort of James Taylor-y kind of mode; I love chords, I grew up with Stevie Wonder, so I'm often looking for hip chord progressions."
Robin proudly highlights her man, "Dave is just a wonderful musician, and he does know a lot of styles, which is really fun for me because a lot of jazz musicians may be very well versed in jazz, but if you say, 'Well, let's do a reggae tune, or let's do kind of like a Motown tune, or Philly soul, or something like that... Dave just knows the grooves, and it's a lot of fun. He's not a jazz soloist, but he knows all these various 'feels.'"
Dave clarifies, "Some of that comes from playing drums; I play guitar in kind of a 'drum-istic' way, because I'm always conscious that when you're playing a certain idiom, it needs to have this pocket that's just right; it's not just playing the chords to the song, it's getting the feel right. I guess even when I'm playing live I'm producing in my mind; thinking 'okay, the bass line needs to do this, and this would be nice in the treble,' so I'm mixing it while I'm playing."
I ask Dave how many albums he's produced for other artists. "Several dozen, I've lost count. Sometimes I'll be just the mixer or the mastering engineer. Albums where I've done everything? There have been several dozen of those, but there are dozens more that I've just done something on." "So the ones you've done everything on have been here at this studio?" I ask. "Yeah, but when I first started out I didn't really have a studio that was fully equipped yet to record drums and stuff so I would go down to commercial studios to do that, but I began assembling my studio in the late '80s, so I've had a studio of some sort for about 20 years now; it's called Beat 'n Track Recording."
I ask Dave if he's friendly with the other engineers in town. "I actually haven't met all of them, but I've often heard their work; I think we sort of check each other out. I know Jeff [Berkley] and Sven [Erik Seaholm]." He continues, "It is getting hard to get paying clients; I think most of the other guys would say that too. So many people have their own rigs now, and whether or not they're good at it, they think, 'Well, I'm not going to spend the money...' And record sales are so poor that you often can't break even, but you want to record your stuff, so the days of having to go to a studio to lay your music down are over. "
He continues, "What I offer is more of a complete thing; I don't just push the 'record' button, I write the arrangements, sometimes I'll overdub guitar parts, I'll do percussion, I know who to call if you need a cellist. It's a mixture of engineering, performing, mixing, contracting, all these various hats that I can offer for 'one low price'. I teach guitar too; my main bread and butter is actually teaching these days. I keep two or three days a week open for recording; either our own or somebody else's."
I ask Robin about her day gig. "I care for my elderly mother, because somebody has to be here. With the job market... truthfully, my only real skill besides massage is singing." I comment on her spectacular voice, and how it must be in demand for session work. "Yeah, people hire me, but living out here, you kind of get forgotten. There are some people that I've known for years who call me, but I'm not really in the scene. Once a year Berkley Hart will call me and we'll do the 'O' Berkley Where Hart Thou' show. I have never been that good at the self-promotion thing. I've tried, I've tried; we've made the demos and sent out the packages and everything. There are people who are good at it. They just know how to get on the phone..." "Hustlers," interjects Dave. "Hustlers, yes." Robin agrees. "But it's just not my personality."
"There's something unseemly about promoting yourself, too." says Dave. Robin continues, "It's also interesting that a lot of these really aggressive self-promoters aren't even all that great sometimes. I can do a gig, and I'll get a lot of compliments or whatever, and even pass out cards, but very rarely does it translate into getting other gigs."
I comment that we are living in San Diego after all, and not L.A. or New York. Dave disagrees. "You talk to anybody from L.A., and when they do a gig they're getting 50 bucks. Jazz musicians in New York will play for 30 bucks and have to pay cab fare to get to the gig!" He pauses, then, "Teaching has worked for me, because we're in a small enough town where you can be the guy, and I love teaching anyway. I've been able, through word of mouth, to build up a steady roster of students, and so, without having to leave home, I just have people come in here four days a week and I teach them. It's a great thing for a musician to do, because the schools have cut all arts and music now, so there are a lot of parents looking in the phone book."
Again, Robin toots her husband's horn, "Dave is a fantastic teacher. His dad was a professor, and his dad's dad; they taught literature. Sometimes I have to come to the studio, and I hear him with his students; he's such a wonderful teacher. The fact that he likes it - there are musicians that teach who wish they didn't. Dave enjoys teaching, and I love that."
I said, "That's such a blessing, because I'm curious about the musicians in the community, and how they put the puzzle pieces together. It's not like being an accountant or a massage therapist. Being a musician is a multi-dimensional, complicated thing, a living-on-the-edge experience."
Dave concurs. "The music business is becoming worse and worse; CD sales are down, venues are closing, but if you're a musician, what are you going to do? Well, at least [you can] pass what you know onto the next generation of people who want it. I find it very gratifying, especially working with a student who 'gets' it, who understands that it's a lot of work, but if they want it and they are regular about the lessons, they'll get there. I have one student in particular who I've been working with since she was 12; She has been performing her own material at local restaurants as a solo singer/guitar player since she was 14 and she's about to turn 18. Now she sings in our band because she's so good."
I ask Robin if she teaches singing, and Dave pipes in, "I wish she did! I get asked every week if I know any voice teachers." Robin stumbles a bit, then says, "Well, I guess I don't... I think, oh, you know, I don't know how to teach. I feel like I don't' have enough information." Dave picks up the ball, "A lot of people think you have to know everything to be a teacher, but that's just not the case. You have to know your craft, you have to be patient, and you have to explain things to people the way you wish somebody had explained it to you; that's the secret."
I chance a personal opinion by suggesting to Robin that she would offer a great deal to a prospective student, because not only does she have the technical ability, but she also brings such a relaxed and natural vibe to her singing. I offer that, in my experience, many vocal instructors are coming from an operatic-style background, which may not inspire or apply to a would-be folk singer. Dave pipes in, "You tell her!"
Robin listens attentively, then says, "I like that you hear that because when I sing, I want it to be natural... and sincere, and emotional. I think that if I were to teach - and I've dabbled in it with friend's kids - when I listened to somebody sing, I would be thinking, 'Now I want to hear your natural voice, not the latest pop singer, or something affected; let's just hear your voice."
Dave offers this opinion. "I think everybody is very style conscious these days, because of the way the media pigeon holes everything. You're under pressure to declare your affiliation. Are you a blues singer, are you a jazz singer, or are you an R&B singer? Once you say, once you fall for it and answer that question, you're expected to sing that way."
Robin agrees. "Somebody who may not have heard me will say, 'Who do you sound like?' I don't hear that I sound like Joni Mitchell; there are certain sonorities and pitches and things, but I don't try to sound like Joni. When I do the performances, I can get into this zone, because her music is so incredible. Some people will say 'You're channeling Joni Mitchell." Dave contributes, "It's just a good fit. This project is a very good fit."
I add, "Robin, your voice has a higher tonal quality, and it's different, but I could be fooled if I wasn't listening closely." Dave rolls the tape again on another track they recorded for the upcoming album, and we all go silent to listen to what we've been discussing. Then he says, "I didn't mean to stop the conversation!" But music trumps conversation anytime in my book. Play on, guys.
And so, what about the raised voices, the slammed doors, the tears... what about the broken guitar strings? Well, maybe, just maybe, when two hearts come together, united by love for the same thing to the point where egos become extraneous, things like that become unnecessary baggage. In the case of these two, it would seem, this project of mutual passion has bred mutual respect - for the music of course, but most of all, for one another.
Safaris to the Heart/The Songs of Joni Mitchell by Robin Adler and Mutts of the Planet is slated for an early spring release. Check out their website at www.robinadler.com for information on an upcoming CD release party.
To contact Dave about lessons or his recording studio, go to www.beatntrack.net.
post to guestbook
by Sue Glumac
---
Talk about magic. Attended Robin Adler's and Dave Blackburn's Sunday concert at the sculpture garden in Leucadia, CA. Perfect weather, fabulous setting and the music was better than ever. Attended a concert of these two a few years ago and loved it, but this was over the top. All I can say is wow!!! Took a younger musician friend of mine and she told me it was the best concert - ever. If I closed my eyes (which I didn't, of course) I would have thought it was Joni in her prime. Robin was incarnating the soul and spirit of our beloved Joni. Band members Barnaby Finch (on keyboard) and Dave Blackburn rocked the house. My advice - but your ticket now for the Jonifest in September in Idylwild that they are hosting.
from audience member Bob Muller
---
Hi Dave, thanks again to you, Robin & the gang for a GREAT show Saturday night. For the benefit of the 99% of you who couldn't make it, let me provide a little (OK, a lot) of detail.... Lindsay, her husband Brian, Kakki & myself arrived at Dizzy's and the small place was already filling up fast. Luckily, since it was a small venue, there weren't any bad seats and what the place lacked in decor (bare cinder block walls and such) it made up for in acoustics. I got a chance to meet Dave & Robin before the show, and I do have to say that it was cool to walk in and say that I was on Dave's "VIP list". The venue was about the same size as the place that Kay Ashley used to put on the NYC tribute earlier this year - as Dave said, it was definitely packed and SRO which is always exciting for the performers. I'm sure they could move this show into a concert hall many times this size and be succesful with it. The show started with Dave & Robin as a duo; Both Sides Now appropriately kicking things off - I mean, you HAVE to do the franchise at some point, plus as Dave announced in his introductory remarks, their intent for this show was to present Joni's music chronologically to show the arc of her body of work and her growth as a composer. I have to give MAJOR kudos to Robin upfront, not only for the melodic mastering of these songs but for the memorization of all of them; there were NO lyric or cheat sheets anywhere to be seen (Heck, as many times as I've heard BSN I still mess up the words when I sing it in the car). I will also note upfront that another interesting part of the show was the backdrop, a series of photos of Joni and her paintings that changed as the show progressed. This made for a nice visual accompaniment, also adding to the visual (and not planned in any way by Dave I'm sure) was the welding that was going on at the top of the building across the street, throwing a constant shower of orange sparks down all evening - quite like a constant fireworks display. The duo continued with four songs from Blue (Little Green, Carey, California, and A Case Of You) and the title track from For The Roses. Dave's acoustic playing was clean and precise, and Robin's voice easily navigated them (and California has got some tricky vocal parts to be sure). Dave provided some biographical information between songs that added to the evening as well. And the pressure was certainly on him, what with at least three Joni experts all in a row, to get all his facts right. I brought my BS detector but it never went off, so good job Dave! Dave & Robin were then joined by Barnaby Finch on keyboards (piano and electric piano) and Paul Carman on a variety of saxes. These two gentlemen have very impressive resumes and talent to match - to say they are virtuosos is not an exaggeration; then again the level of talent across the board Saturday was amazing and if there were any miscues musically, these ears certainly didn't catch them (a couple of between-song feedback issues notwithstanding). Now a quartet, they performed "Down To You" in its full symphonic splendor, Barnaby actually waving the charts in the air to show just how complex this piece of music is, and the interplay of Barnaby and Paul was breathtaking and very emotionally stirring. Robin & Dave continued to be spot on and this number was an early highlight for me (a bit prejudiced though since DTY is probably my 2nd-fave Joni song). Roger Friend then joined in on drums and percussion as did the aforementioned 16-year old (!!) Evan Stumpges on fretless bass, not intimidated in the least by the company he was in. With the addition of the rhythm section, they forged ahead with "Help Me" and although Robin dropped a couple of words (out of the approximately 5 million she had to learn!) she didn't miss a step and it sounded great. I especially got a kick out of watching Roger Friend; obviously into the music and seemingly playing the part of an octopus, busily keeping up with the drum kit while simultaneously throwing in shakers, chimes, and other percussive colors into the mix. The MOA version of Woodstock was also a real crowd-pleaser, allowing everyone to stretch out and solo and really crank it out and rock it up a bit - lots of energy on this one to be sure. HOSL was up next, and Harry's House/Centerpiece turned into a chance for the musicians to really stretch out, almost all of them doing extensive jazz soloing on the "Centerpiece" section. I also particularly enjoyed Robin's throwing in the "when ya gonna be home Harry?", "Get down from there" and other comments in at the end - it made the sound that much more authentic. Closing out the first set were two from Hejira, the title track and "Coyote", both highlighted by Evan's Jaco-like (he even had the bandana headband) basswork which was superb as well as Paul's "Benny Goodman" coming through the snow & the pinewood trees. The band then took a well-deserved break and we got ready for the second set. Again, moving chronologically through Joni's career, Dave commented that Joni's had come a long way from folksongs, and Robin added that we were a long, long way from Canada, and the band launched into Dreamland, everyone banging on or shaking something, and it was hard to stay in my seat. Dave introduced the Mingus project, and Robin bravely began what was a phenomenal one-two punch: A Chair In The Sky segueing to Dry Cleaner From Des Moines...what a vocal powerhouse, and with all the added solos by the various band members, this section was truly unforgettable. Even Robin had to pat herself on the back for flawlessly navigating the challenging blue notes and intervals of Chair In The Sky - praise that was well-deserved as it really put her and the band through the paces. Moving out of the jazz era, Dave introduced the 80's era - I was hoping for a bit more than I got, but at least they dipped their toe in the water that most artists fear to tread in and came up with a fine and updated arrangement of Dog Eat Dog, again not the easiest of melodies to sing particularly with the speed/diction combo you need to have to sing it. From Night Ride Home we got the title track and Passion Play, again with some very nice extended soloing. Borderline followed, and it was great to hear that seldom-performed song - again, kudos to Robin for flawlessly having the lyrics embedded in her soul. And I'm not a guitarist but watching Dave play it, it sure looks like this is not an easy song to play. And speaking of Dave, I also have to add (a bit late in the review but better late than never) that he also sang backing vocals on a number of songs and the harmony between him & Robin was awesome, sounded at times just like Joni's multi-tracked harmonies. And that brought the show to a close, except for it was pretty obvious that the SRO crowd was not going to let them get away without a couple more - everyone was on their feet. They introduced Brittney Dorr (not sure of the last name but I will be when she becomes a household word) to join Robin in The Circle Game, and it was touching to have essentially two generations trading off the vocal lines. Brittney is only 14, and is WAY too cute and WAY too talented to be only 14. They closed things down with Big Yellow Taxi, and once again the crowd leapt to their collective feet and clapped and cheered and whoo-hoo'ed for all the hard work that these artists had shared. Was it worth the 2,281 miles I traveled to hear it? Oh hell yeah! And if you're in the area and couldn't catch it, make your reservations now for December 3rd. Thanks to Dave, Robin and all the band and crew that made this night possible. The hours and hours of hard work are appreciated and I hope you'll be able to make the concert available so that those who aren't as 'conveniently close' as I am can also get a taste of your talents and your obvious love of Joni. Bob
"A Jones For Joni" by Marcia Manna
---
Robin Adler and Dave Blackburn's tribute to Mitchell sells out the house. It would be tempting to pay tribute to Joni Mitchell by selecting a single genre; her jazz work perhaps, or the early folk material. Representing the full range of the Canadian singer-songwriter's talent could be too daunting a task, though many artists have covered her songs, from Cassandra Wilson ("Black Crow") and Janet Jackson ("Big Yellow Taxi") to Crosby, Stills, Nash and Young ("Woodstock"). But that didn't stop guitarist Dave Blackburn and vocalist Robin Adler from honoring Mitchell's challenging body of work.
They'll perform a concert, complete with a visual backdrop of Mitchell's photographs and artwork, Saturday, three days before Mitchell's 63rd birthday, at Dizzy's in downtown San Diego. Joining the Fallbrook husband-and-wife team are pianist Barnaby Finch, a touring member of Lee Ritenour's band; drummer Roger Friend; former Frank Zappa saxophonist Paul Carman; and 16-year-old Evan Stumpges on fretless bass. "We are lifelong fans and have every album she did," said Blackburn from his North County recording studio Beat 'n Track. "We do this chronologically, so you can witness the arc of Joni's career. "And we've sold out every Joni Mitchell gig we've done. There are a lot of people who remember that music fondly, so people who know her, know what they are going to hear. We also thought she was retired, and that you couldn't hear the real thing anymore." Mitchell hasn't retired, but many fans will drive a distance to hear her music. Last month, Mitchell spoke of recording her first collection of new songs in nearly a decade with the Ottawa Citizen. That article, and the success of Adler and Blackburn's tribute concerts, are published on www.jonimitchell.com, a comprehensive, fan-driven Web site. Blackburn logged on to participate in an online discussion, and now, folks, Blackburn said, from as far away as South Carolina are traveling to the Dizzy's concert.
In many ways, Adler and Blackburn are ideally suited to this project. A guitar and drum teacher, as well as a producer and performer, Blackburn has an educator's exacting standards. He's written all the charts for the set list and dealt with an aspect of Mitchell's composing that contributes to her originality, namely open or alternate tunings. In laymen's terms, Mitchell tuned her guitar in a way that suited the songs she wrote. Trying to duplicate that effort can be a tough venture. "It became a trap for her because you either re-tune before every song, or have 20 guitars on stage," Blackburn said. "I've narrowed it down six guitars. Evan, the young bassist who will perform, is one of Blackburn's students. He's memorized every line of every song, including the rigorous efforts of Mitchell's one-time bassist, the late Jaco Pastorius. Adler's expansive vocal range is effectively tapped, as she easily segues from the high soprano notes Mitchell was known for earlier in her career to the rich lower register she developed in maturity. "All the songs have unique things that I enjoy," said Adler. "She isn't afraid to speak her mind in her lyrics and I love that. "We put so many hours into this and I feel so fortunate. There's a lot of love for Joni and her music. It's not about us. It's about her and her evolution as an artist."
Robin Adler and Dave Blackburn to perform Joni Mitchell songs
by Nathalie Taylor
---
In her rich, soulful voice Robin Adler sings "I've looked at clouds from both sides now, from up and down, and still somehow…it's clouds illusions I recall; I really don't know clouds at all." The familiar tune is one that Joni Mitchell wrote back in the sixties. Adler is immersing herself in Mitchell's songs in preparation for an upcoming concert at the Fallbrook Holistic Center on Saturday, February 25 at 7:00 p.m. Adler's husband Dave Blackburn will accompany her on "guitars." No, that isn't a typo. He will play a variety of different guitars during the concert. "She [Mitchell] has completely rethought the guitar," he noted. "She writes with fifty different guitar tunings so I will have a battery of guitars to use." Joni Mitchell has inspired many a songwriter and vocalist including Robin Adler. The full-bodied voice and poetic lyrics of Mitchell is not something that Robin will truly emulate in her concert, but she will sing the songs with a bit of her own soul to create a unique vocal style. Adler "makes the songs her own," and because her background is in jazz she is prone to improvise. Adler and Blackburn are spending a great deal of time in preparation for this concert. They are studying Joni Mitchell's life, songwriting career and vocal accomplishments. The couple owns all of Mitchell's albums, which span from the 1960s to her most recent album, which was released in 2000. This interest in Joni Mitchell's music is not a new passion for either Adler or Blackburn. Blackburn has been a Mitchell fan for thirty years and Adler since the 1980s. "I admire her more than any songwriter, I can listen to her over and over," said Adler. "There is so much depth --- and the way she uses metaphors is amazing." Fifty-three year old Adler got a late start on her music career. She graduated from Fallbrook High, then took vocal lessons while a student a Mira Costa College. However, it wasn't until she was thirty-five that she began to sing professionally. She was singing with one of her Joni Mitchell albums when a friend said, "I love your voice – I would like to hear you sing more." "That just sparked an interest," said Adler. "Music is my passion now." Adler devoted herself to the craft of singing and had some devoted mentors. Peter Sprague was an early mentor and she credits him for launching her career in San Diego. Dave Blackburn's interest in music began at an early age when he was growing up in Oxford, England. "I started playing the guitar when I was seven," he said. "My dad took me to concerts and we went often. I was so fortunate to hear world famous artists appear in a small theatre for four or five pounds." Twenty-five years ago Blackburn was invited to join a San Diego band and has been in the area ever since. He not only plays guitar, but also teaches private lessons and records in his own studio. He is most impressed with Mitchell's gift for creating metaphors. In her song "Hejira" Blackburn noted, "There is a lifetime encapsulated in one phrase – 'We all come and go unknown/Each so deep and superficial/Between the forceps and the stone.' Adler and Blackburn anticipate that the concert on February the 25th will be well received. "There may be plenty of Baby Boomers like me who would be interested in revisiting Joni Mitchell," said Adler, "and even some younger people too. She is an artist that crosses the lines of different musical genres."
This week's guest... was the husband/wife duo Dave Blackburn and Robin Adler. Having known them for years and knowing their boundless talents I knew we were in for a treat, but last night was just the best. They have worked up a chronological presentation of the music of Joni Mitchell and gave us a small taste of it. With Robin's beautifully emotive, strong/soft, pitch perfect voice, and Dave's deft fretwork, masterful guitar voicings, and percussion, they brought out the best in what can only be described as the one of the most influential repertoires of the 20th century. From her earliest folkey ballads (Clouds, A Case of You) to her later jazz infused offerings (Hejira, Harry's House, Dry Cleaner From DeMoines) and everything around and in between, Dave and Robin pulled them off with aplomb and brought the house down, and a mighty house it was. Thanks again to The Hot Monkey Love's Rick and Alma Felan, and all you great Monkey Lovers who came out to the show. We definitely gotta do this again Dave, and Robin! Cheers.
Review of "It's About Time": **** stars "fans of classic female jazz singers should definitely give this one a try."
"When you first hear Robin Adler sing, you think that a new and very beautiful songstress has come to open all the windows, because that is exactly what Robin Adler does."
"this is an artist who deserves a wider audience--more importantly the audience deserves her too."